Here are 5 easy digital marketing hacks that your hotel can use to increase bookings, online engagement, and positive reviews.
1. Answer Questions Online
Answer questions about your hotel on Google. When someone searches your hotel name, they will see the Q&A on the info panel that shows up on the right side of the page. If there are no current questions, then have someone ask one or two that you can answer. This shows that your hotel is active online and wants to engage with guests to ensure all of their questions are answered.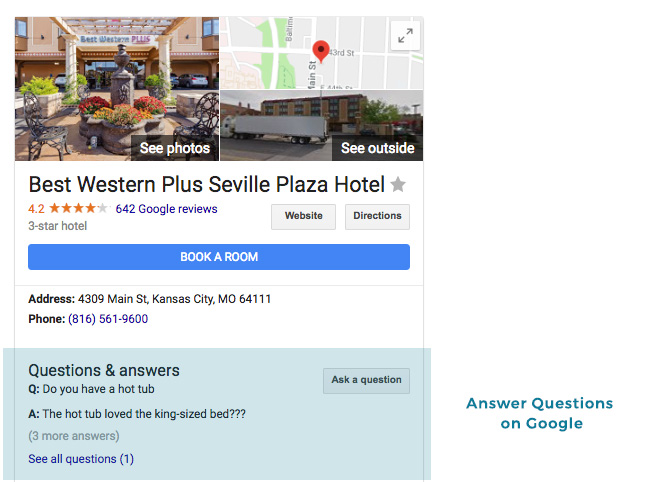 You can also answer questions about your hotel or the industry in general on sites like Quora and Facebook. Answering questions online helps draw attention to your hotel, builds your reputation and credibility in the hospitality industry, and helps drive potential guests to your social media or directly to your website.
Bonus hack: You can use these questions to your advantage by creating social media content that specifically answers them. You now know what your guests are asking, so you know that what you post will be very valuable to your followers.
2. Email Positive Reviews
Find recent positive reviews about your hotel online and email them to past guests. Let them know that this is what others are saying about you and how much you value their opinion about their stay. Ask them to write their own review about their experience with you and include a link to TripAdvisor or Yelp.
This will help increase the number of online reviews and influence others to choose your property.
3. Setup Alerts
Setup social media alerts and Google News alerts to notify you whenever your brand, tags, or hashtags that you are following are mentioned. This way, you will know right away when you are talked about online without needing to constantly search and you can engage with these people as quickly as possible. Be sure to comment on, share, and like these posts to show that your hotel is actively listening online.
4. Mention Local Businesses
Mention or tag local businesses, restaurants, and attractions nearby as a recommendation to your followers. This highlights your local community, which will not only be valuable to guests who want to know what to do while they stay with you, but will also encourage those businesses to engage with you and your posts. This may lead them to share your posts or even mention you on their pages as well.
5. Gather User-Generated Content
You can put together a large collection of content by encouraging your guests to post about your hotel, tag your hotel, or enter contests with their own posts. This is beneficial for you because you will have plenty of content to choose from when wanting to create a new post, generate a new email, or add more content to your website.
The best part is: you didn't have to do any work to get it. Have your guests do the work for you and pick from the best to include in your own content.
---
Use these hacks to set yourself apart from the competition and create a positive online presence for your hotel. Guests will love staying at your hotel knowing that you value their questions and input, want to interact with them online, and even feature their own content in your posts.