Many major hotel brands allow properties to manage their own websites. These sites give hotels the ability to fully control their presentation, gain more exposure online and drive more direct bookings.
I've had the privilege to work with many hotels over the past 12 years and have seen first hand how a great website can be a game changer for a hotel's bottom line. While independent websites are not a must for all hotel locations, I'm still amazed at how many GMs and hotel owners in competitive markets feel that their page on the corporate website will suffice.
In this post, I'll outline some clear advantages for branded hotels that own and manage an independent property website.
Full Control Over Content
With your own website, you control the exact content and images that you want to use to position your hotel in the market. There are no limits on the number of photos, room types, pages or length of content. In fact, adding more pages and content about the hotel and local area increases the opportunity to drive more traffic to the website.
Larger Images
After location, images are the #1 factor that guests use to choose a hotel. Yet, many corporate websites still have small images. Here are a few examples of corporate websites: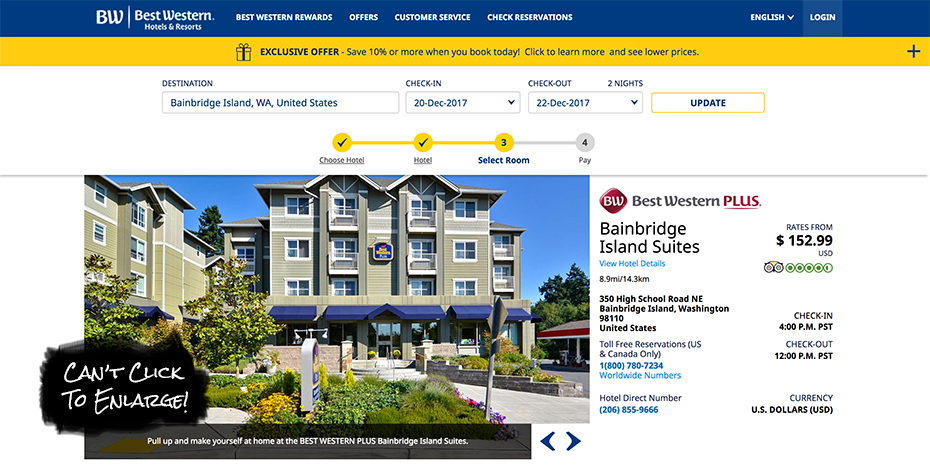 Another example: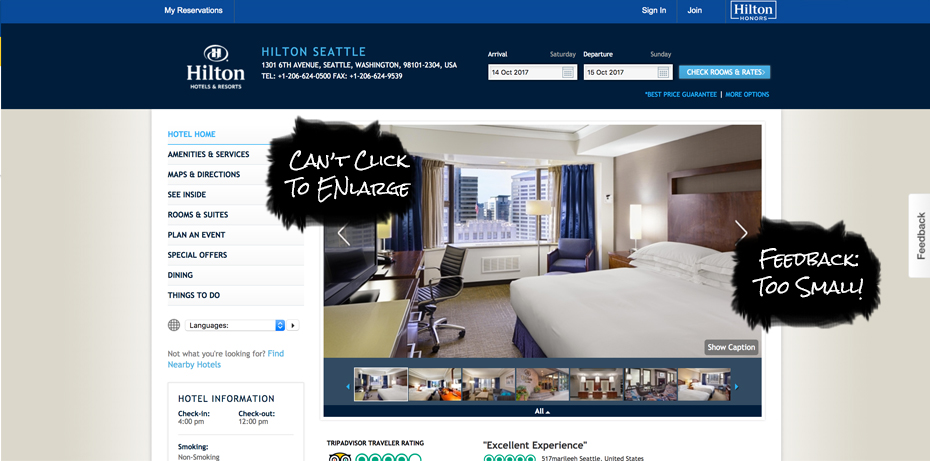 Where do users go to see larger images? Google, TripAdvisor, Booking.com or other sites that cost you commissions. Hotels with independent websites have the ability to display large photos and allow guests to better imagine themselves at your property.
Search Engine Rankings For Branded Keywords
Try searching for your hotel on Google, here is what you will see first: several ads that all have your hotel's name and promise great rates. After that, it's usually the main brand website followed by all of the OTAs.
That's right. Someone just searched for your hotel BY NAME and chances are you will still be paying high commission fees.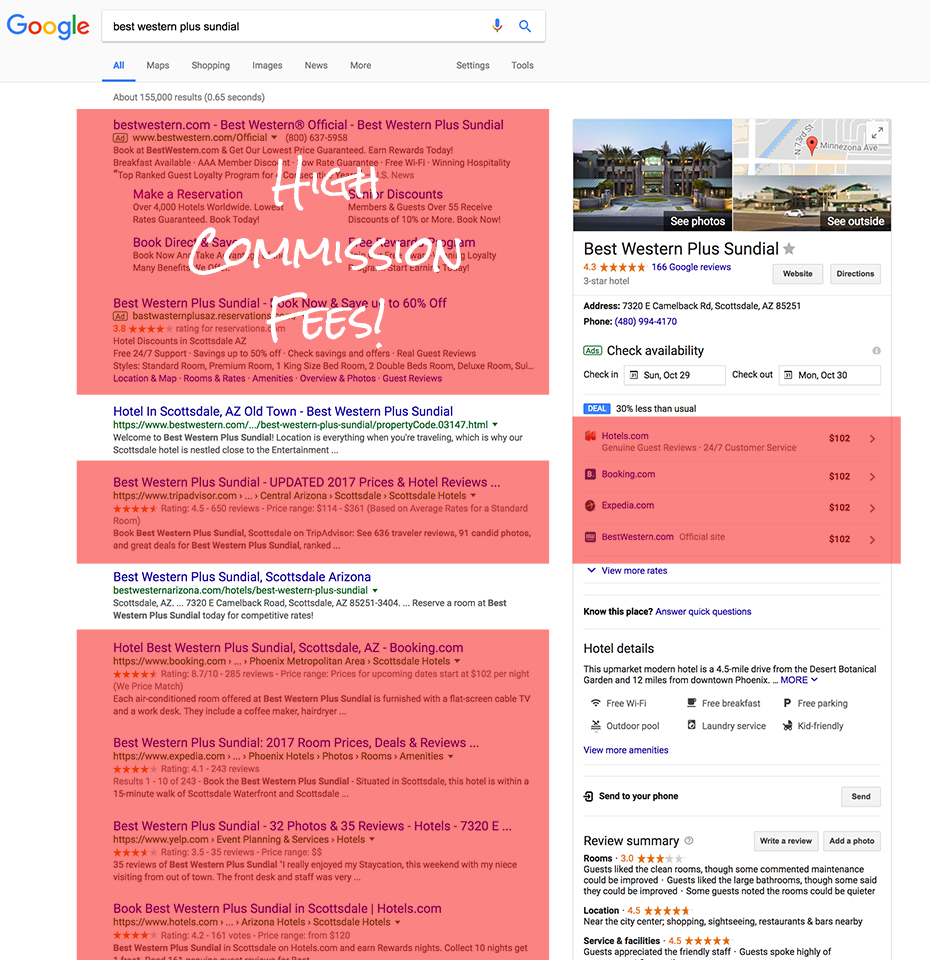 A hotel's independent site usually ranks #1 or #2 in Google listings and pushes OTA's down one more spot – increasing chances for direct bookings. This advantage alone should be enough to cover the costs of an independent site.
Better Display Of Room Options
Rooms are the second most visited pages (after the home page) on nearly all of our hotel websites.  Yet, many corporate websites make it difficult to find the room options until you choose a date and see what's available. Guests want to see that the rooms are clean, updated and fit the needs of their stay. Independent property websites allow you to show off all room types, how many people they sleep, all of their amenities and show room specific photos. Room pages are usually the last page a guest visits before starting the booking process.
Local Blogs
Blogs are the best way to keep a website fresh with new content and are a core tactic for local search strategies. Blogging about property updates, the best restaurants/bars in the area, or the main local attractions allows you to position your hotel as a local authority and gives guests more reasons to book at your hotel.
Blogs that are updated regularly add up to dozens of pages of content each year and help drive search engine traffic to your hotel website.
Access To Insights And Analytics
When you own and manage your website, you have the ability to gain more insight into who is viewing your hotel online. Google Analytics is a free software tool that allows you to understand key information such as; total traffic to the site, search traffic numbers, where users are coming from (search, social, other sites, etc.), what pages were viewed, what countries and states visitors are from, the number of "book now" clicks, and more.
This insight allows you to better understand your guests and set benchmark numbers that can be used to track the performance of marketing efforts.
More Direct Bookings
What it comes down to is, an independent website can generate more awareness, drive more traffic and deliver more direct bookings.
Let's Talk About Your New Property Website
At Top Suite, we have options that fit the budget of any hotel and will work to create a plan that meets your property's needs. Give me a call directly or fill out the form here . I'd be happy to discuss your hotel and develop a customized digital marketing plan.
---
Posted by: Adam Kline
(888) 988-5485 ext 305
LinkedIn