94% of people believe Wi-Fi is the most important hotel amenity. 

When guests access this amenity, it is crucial to have a welcome page that enhances the guest experience and offers information that they need during their stay.
If you send guests straight to the internet (or your main website) without redirecting them to a landing page first, you are missing out on a huge opportunity to connect with them.
Engage With Guests
If Wi-Fi is the most desired amenity, then that means your hotel's Wi-Fi welcome page is sure to be viewed by a large percentage of guests who visit and stay with you. They will be viewing it every time they connect to your Wi-Fi, so use this as an opportunity to engage with your guests! This is a great way to let them know of any special events or promotions going on. It is also a good idea to provide them with any hotel and local information they may find valuable during their stay.
Provide Value
Give your guests a reason to come back to this page. Provide contact information if they require assistance and share options for dining and things to do nearby. You can also include online access to room service and housekeeping requests. You may want to add breakfast and checkout times too. Another valuable piece to include may be the option for upgrading to faster Wi-Fi at an extra cost.
Connect on Social Media
You can continue interacting with your guests both during and after their stay by asking them to like and follow you on social media. Your hotel can also ask visitors to tag or mention the hotel in their own posts and photos for a chance to be featured on your Facebook page. Maintaining an active social media account and staying engaged with your guests online helps build and strengthen those relationships which in turn leads to loyal customers and repeat bookings. You can display all of the hotel's social media handles on your Wi-Fi welcome page to help increase your following and grow your social networks.
Increase Reviews
Ask your guests to share a review about their stay. It is very effective to provide links directly to review sites like Trip Advisor, Yelp, and Google to encourage reviews. The easier you make it for guests to get there, the more likely they will be to actually write a review. When a guest sees these review site links every time they join your Wi-Fi network, it will be a continuous reminder throughout their stay. Adding this section to a hotel's Wi-Fi welcome page has proven to increase the number of reviews significantly.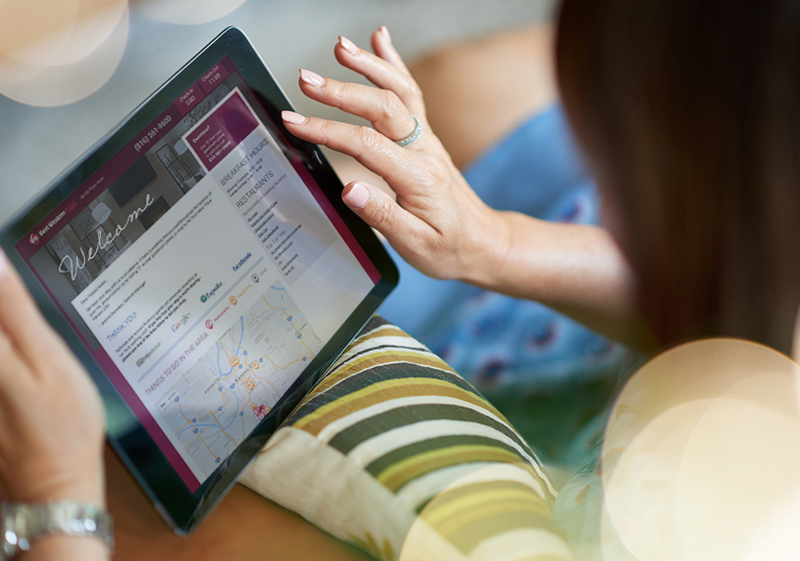 Top Suite Can Help You Set Up Your Own!
Our Wi-Fi Welcome Page is proven to enhance your guest experience and increase the number of online reviews you receive. We provide a monthly report on views and clicks to review websites for you and redesign the welcome page free of charge every 12 months. Learn more about this amazing service here.